10 Casino Games with the Lowest House Edge
We play casino games to have fun and win money along the way but not all games are treated (or treat you) the same; there is a major difference in the likely payout percentage from one game to the next. The casino payout rate helps determine the casino's house edge - the statistical advantage the casino holds in any given game.
A casino's house edge can be reduced using effective strategy but it's safest to simply play the games the lowest house edge available. Playing these ten games will give you the best chance to walk away with some extra money in your account. Here is a list of the top ten casino games with the lowest house edge.
10. Backgammon
House Edge from 6.39% to 4.82%
Backgammon is a popular table game at online casinos. One of the oldest members of the table games family, in this dice game players start with two pieces called "point 1". After players make wagers, the dice are thrown by a designated shooter.
The object is to get the first two pieces over the jump bar by corresponding the individual roll of the two dice. If the shooter is successful, whoever placed the jump bet will win. Winning jump bets and out bets will payout according to the start point; and double wagers pay according to the number of doubles per point.
However, jump and out bets are more favorable for players. Top enjoy this unique yet classic table game, head over 888casino today!
9. Caribbean Stud Poker
House Edge from 5%
Think stud poker minus the bluffing and the time spent at the mirror to practice your poker face and you get Caribbean stud poker. Although you might play the same hand along with other players, the house is the one to beat here.
To join the game place an ante bet; next, look at the dealer's up facing card before deciding if it's worth looking at your cards by placing a further bet. Caribbean stud poker has a nice extra feature: the jackpot bet.
Place a chip on the JP box to stand the chance to win big if you hit a royal flush. To try this tropical-themed adventure for yourself, visit the aptly-named Tropicana Casino!
8. Pai Gow Poker
House Edge from 2.5%
What would you get if you mixed an antique Chinese domino game and poker? Well, probably something along the lines of pai gow poker. This Frankenstein of a card game is fun and gives you a double chance to win, which allows players to form 2 winning hands out of the seven cards dealt to the player.
Don't miss out on your chance to try this modern twist on classic gameplay, head over to Virgin Games now to start playing pai gow poker today!
7. Roulette (Single Zero)
House Edge from 2.5%
If Craps is THE game in Vegas then roulette is definitely THE game on this side of the Atlantic. This game, evocative of old grandeur, has a higher player edge when played on the single zero version of the wheel.
The maths behind it is quite simple: the game plays 35-1 on straight bets, but the numbers on the wheel are 37. As we can easily understand, without the need to pull out the calculator, the casino edge on the double zero roulette significantly rises (38 numbers against the same 35-1 payout).
Pick your favorite number then give it a whirl at SugarHouse Casino!
House Edge From 2% to 10%
Despite the payouts not being as good as table games, slots are the undisputed kings of online casinos. The competition to produce the best slot means that software suppliers are constantly adding extra features such as free fpins, interactive Bonus Rounds, and jackpots. To reduce the house advantage, we suggest looking out for those features as often it might make the difference between a winning and a losing session.
You could literally spend days trying out all the different slots games. One of our favorites is Great Wild Elk, which you can find at Party Casino, you get to see what has us loving Desert Treasure so much!
5. Video Poker
House Edge from 5% to 0.5%
Much has been said about video poker possibly being a 0% house edge, provided that the right strategy is applied. We are quite skeptical, since casinos are in the business of making money.
However, contrary to what some might say, this is a game of skill and out of the many video poker games, the simple versions such as Jacks or Better and Deuces Wild can be quite rewarding, even for novices.
Head over to 888casino to play video poker, check out a strategy table, stick to it and see how close you come to wiping out the house edge!
4. Three Card Poker
House Edge from 1.5%
This fun and quick poker variant, three card poker, has gained lots of popularity in casinos due to its speed. The dealer will hand out three cards to each player and also to the house. The payouts vary according to the dealer cards.
King high will qualify the dealer and pay the highest returns. Basic poker strategy can be applied here. However, we recommend that you always play Queen high to stand a chance to see your bet money back.
To check out this unique poker variant, head over to Betfair's online casino today!
House Edge from 1.5%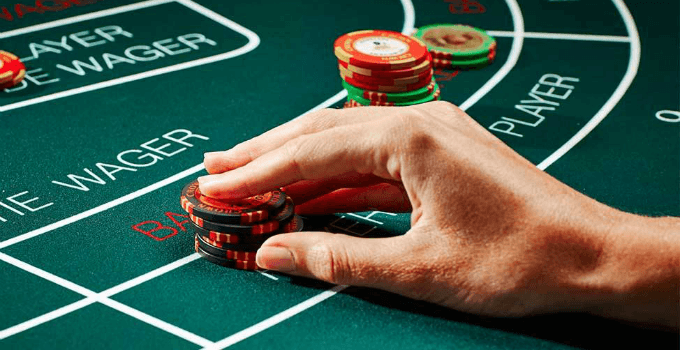 So you think slots are lame, and you are after a no frills game. What about a little less action around the table and a basic strategy game? Welcome to baccarat. Punters can only choose to bet on Player, Banker, or a Tie.
The game follows rigid rules on card distribution. Your best bet here is on the Player, because the Banker bet has a fee added to it. So sit back, relax, and enjoy a game steeped in history. To use your most effective baccarat strategy, visit Tropicana today!
2. Craps
House Edge from 5% to 1.4%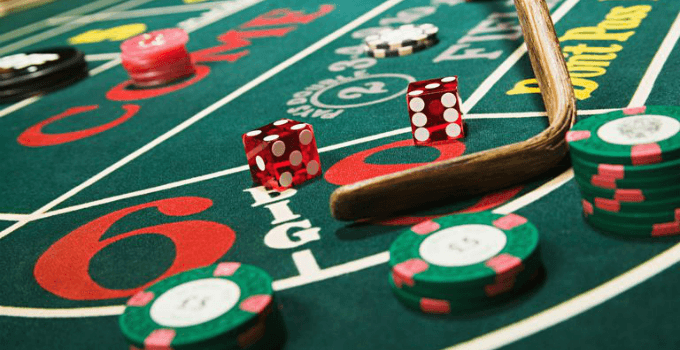 Simply put, craps is one of the most exciting games going down on 'The Strip'. But what about the online world? The many rules often mean that players are put off from trying their luck. However, craps offers one of the lowest house edges compared to other casino games. The don't pass/don't come bets have a house edge of only around 1.4%.
So what are you waiting for? Challenge yourself at Tropicana today and learn something new playing craps!
House Edge from 1.5%
when it comes to blackjack variants, the difference is in the cards - 52 to be precise. Find a single deck game, and your chances of winning are greatly improved. The house advantage is significantly lowered on single deck games of Blackjack.
Add some basic strategy, and with the right bankroll management, your chances of walking away with your money, plus some of the casino's money, are exponentially improved.
Whether you are novice or an expert, give blackjack a go at Virgin Games today!