Betting Opens On Joe Biden Completing Full Term Of Presidency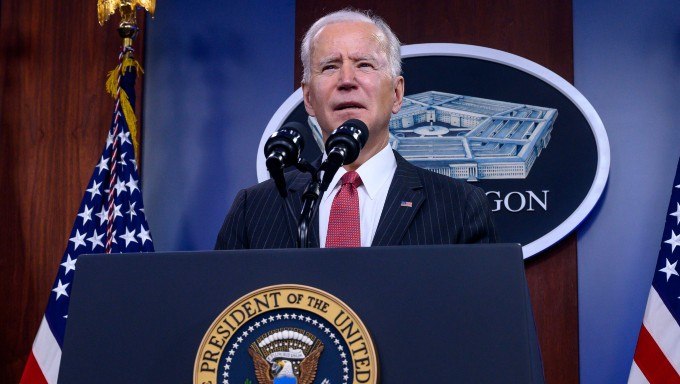 © PA
US president Joe Biden has seen his chances of remaining in office for a full four-year term hold fairly steady despite opinion polls falling to their lowest point since he was inaugurated.
Biden beat Donald Trump in the 2020 US election by seven million votes and was sworn into office at the start of the year amid much political upheaval across America.
Tensions have already dampened down somewhat as the Democrats set out their plans for government during Biden's first term, which has already seen the president sign a trillion-dollar Covid-relief package, push for a $1.2tn infrastructure bill, and meet G7 leaders with a focus on tackling climate change.
But according to the latest politics betting odds the honeymoon period for Biden could well be coming to an end as the US knuckles down to getting back to 'normal' while the worst of the coronavirus pandemic passes.
A country-wide vaccine roll-out has been largely seen as a success and people are getting back to work. But with that comes questions of what happens next, while Trump himself has not gone away and the embers are still burning under his base.
Polls And Odds Latest
There are small signs that Biden's initial spike in popularity will soon be tested. Within a week of his inauguration Biden had a 55% approval rating, while his disapproval rating fell to 34% – figures Trump struggled to achieve.
Yet over the first six months of his presidency those two metrics have narrowed. Indeed, following his trip to Europe for the G7 summit Biden's approval rating fell to a record-low 51.6% in mid-July, before widening out again to 52.3%.
That coincides with the wildfires that are raging across western states and a heat wave that has tipped the mercury to as high as 47.2C (117F).
While Biden's popularity dampens, the odds of him remaining in office until the 2024 US election have only slightly worsened. Whereas back in May bookmakers priced him at 4/7 to serve a full term (63.6% probable) that price is now 11/18 (62.1%).
The shift in price reflects a 1.5% fall in probability but doesn't match the drop in approval rating. This perhaps shows that political betting sites are confident Biden, even at the age of 78, is on course to remain in power until 2024.

Biden Approval Rating Betting
Whether Biden's approval ratings will bounce or not in the coming weeks remains to be seen. One US bookmaker has given the president a 57.4% chance that his approval ratings will stay above 52.5% come August 25.
However, a price of almost Evens is available on the president's approval rating dropping below that figure by the end of that month.
Approval ratings are generally gradual trends that recover from small, sharp spikes. the fact Biden's has dropped over the early months of his presidency may worry some Democrats, but the true test of his approval among the American public will be felt early next year.
Those poll ratings will likely set the narrative for how the Democrats and Republicans fare at the mid-term elections in November 2022. Biden will hope to keep the distance between his approval and disapproval ratings as wide as possible in the run-up to those votes.
Harris To Replace Biden?
The incumbent is not favourite to win the next election, however. That status is currently held by his vice president Kamala Harris, who is now as low as 10/3 to win the 2024 election. The VP has seen her odds continually fall since the Democrats won November's vote, while Biden's price has widened to 5/1.
Trump, who looks almost certain to run for the GOP candidacy once again, is floating around 8/1 to be the next US president. But a likely Republican rival is Ron DeSantis – the Floridian governor who is now as low as 10/1 in the betting odds.
DeSantis may struggle to beat Trump to the GOP ticket, though, with a recent CPAC poll backing the former president 70-21 over his supposed rival.
Stay In The Loop With Free Bets, Insider Tips & More!
Live Betting. Sports Promos. Sent Weekly.
Betting News Articles