Why Draymond Green Should be Your NBA Finals MVP Bet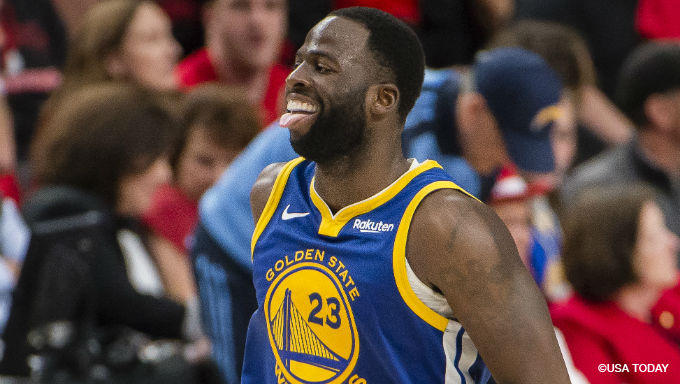 Stephen Curry was historically good in the Golden State Warriors' sweep of the Portland Trail Blazers, scoring a record 146 points in the four games of the Western Conference Finals.
He looked as good as ever and appears to have shaken off some early playoff woes from the first few rounds. And yet, Curry might not have been the best Warriors player on the floor during that Blazers series.
That honor belonged to Draymond Green, who is playing on another level at this stage in the NBA Playoffs and, because of it, makes for great value for fans of NBA betting as a potential NBA Finals MVP pick at +1000.
---
NBA Finals MVP Odds 2019
| Player | Odds |
| --- | --- |
| Stephen Curry | +185 |
| Kevin Durant | +195 |
| Giannis Antetokounmpo | +280 |
| Draymond Green | +1000 |
| Kawhi Leonard | +1000 |
| Klay Thompson | +5000 |
| Khris Middleton | +8000 |
Bet these NBA Finals MVP odds here:

Secure

Trusted

Verified
---
4 Reasons to Bet on Draymond Green
1. Green 'Sees Everything' for Warriors' Offense | After the Warriors' improbable Game 3 comeback, Curry said it felt like Draymond Green "has got eight eyeballs. He sees everything … He has just a high basketball IQ and that's just the fact that he's so versatile, he can do a lot of different stuff and knows how to help the team win."
That quote came after Green took over Game 3, scoring 20 points, grabbing 13 rebounds and dishing out 12 assists in the victory. His encore for Game 4 was yet another triple-double (18 points, 14 rebounds, 11 assists) and the dagger 3-pointer in overtime to push the Warriors to their fifth straight Finals appearance.
In 16 playoff games, Green has nearly averaged a triple-double with 13.6 points, 9.9 rebounds and 8.2 assists. He's made better than 52% of his attempts and has lived inside while the Splash Brothers and Andre Iguodala roam the perimeter.
He's taken on a larger scoring load in Durant's absence and come through for the Warriors.
20 PTS | 13 REB | 12 AST
18 PTS | 14 REB | 11 AST

The BEST PLAYS from @Money23Green's back-to-back triple-doubles in the @warriors Game 3 and Game 4 victories! #StrengthInNumbers #NBAPlayoffs pic.twitter.com/vkb4og48cU

— NBA (@NBA) May 21, 2019
2. He's the Catalyst of the Warriors' D | The conversation about the Warriors will always begin with their historic offense, but let's not forget about their defense.
Golden State held the Blazers to a 105.3 offensive rating in the four-game sweep, more than 8 points worse than their 113.6 mark in the regular season and 5 points worse than their 110.3 mark in the first two rounds of the playoffs.
Green had a massive hand in that. He averaged 2.3 steals and 2.8 blocks in the series in addition to 10.8 defensive rebounds. There's no denying he's been the best individual defender in the postseason.
He also accomplished this without Durant, one of the league's top defenders, and he had 14 defensive rebounds, 3 steals and 2 blocks in Game 4 without Andre Iguodala.
---
Check Out: Hard Rock Sportsbook For Free Bets and Welcome Bonus.
---
3. Green's Defense Will Be Key In Finals | Remember when Iguodala was named NBA Finals MVP in 2015 in large part because he "held" LeBron James to averages of 35.8 points, 13.3 rebounds and 8.8 assists? Defense matters and Finals MVP voters will take that into consideration.
In a potential Finals series with the Bucks or Raptors, the Warriors will rely heavily on Green's defense – in addition to him being the engine of the offense – to slow down the likely NBA MVP or likely Most Improved Player.
If it's Milwaukee, Green will be the primary cover on Giannis Antetokounmpo. Green didn't play in either game against the Bucks during the regular season but his defense has been good enough this postseason to believe he'll be able to at least limit Antetokounmpo.
The Warriors love to switch, so Green will see time on the likes of Eric Bledsoe, Khris Middleton and even Brook Lopez if Golden State chooses to play small with their Hamptons Five lineup.
If it's Toronto, Green will match up with power forward Pascal Siakam, who averaged 19.5 points on 13 of 20 shooting in two games against the Warriors. Green would likely see time on the likes of Kawhi Leonard and Marc Gasol, too. As always, he'll be the most important defender in the series and a key to the Warriors winning it all.
4. KD Hurt, Steph 0 for 4 on MVPs | It's unknown whether Durant, who suffered a calf strain in the West semis, will be healthy for the Finals. If he's out for even one or two games, it's hard to see him winning Finals MVP.
And while Curry has had a remarkable postseason, he's gone 0 of 4 in Finals MVPs the last four seasons, with Iguodala winning in 2015 and Kevin Durant winning in 2017 and 2018.
Maybe voter fatigue will set in and Curry will win the award – but Green is having the best postseason of his Hall of Fame career and has taken on a much larger role in Durant's absence. That could push him toward a Finals MVP when it's all said and done.
---
Recent NBA Finals MVPs
| Year | Player | Odds |
| --- | --- | --- |
| 2018 | Kevin Durant | -150 |
| 2017 | Kevin Durant | +190 |
| 2016 | LeBron James | -260 |
| 2015 | Andre Iguodala | +12500 |
| 2014 | Kawhi Leonard | +1800 |
| 2013 | LeBron James | -225 |
---
Recommended Betting Sites

Secure

Trusted

Verified
Be first to get our exclusive sports offers!
Join today to stay up to date on your states gambling news and offers.
Betting Strategy Articles